How are you handling COVID-19?
It's been a strange and challenging 2020, to say the least. If ever there was an event to demonstrate the interconnectivity of our global supply chains – and the vital work done by procurement to keep them running – it's Covid-19. The pandemic has also highlighted just how much organisations depend upon their suppliers. Those who will have fared best will be the ones with strong relationships, who are viewed as a 'customer of choice' by their partners.
We are working closely with organisations globally to help them position their business to be resilient in the current situation, as well as dealing with future impacts on their supply chains.
Why the COVID-19 outbreak is not a "typical" business continuity risk, and which characteristics make it far more serious?
COVID-19 is not a "typical" business continuity risk
---
It was sudden in nature and escalated quickly

It has a universal impact on business irrespective of industry or location

Many businesses continue to experience unpredicted reductions in revenue and an uncertain future

If the global economy is to recover - and be in a position to move forward - procurement and supply chain need to play its part

Only 1%
of respondents thought their supplier management technology was adequate during the crisis
State of Flux research
Only 16%
of European companies reported supply chains being significantly impacted by COVID-19
State of Flux research
84%

of respondents
believe their SRM programme will be accelerated and possibly expanded
State of Flux research
What are the supplier risks generated by COVID-19?
1 Health and availability of supplier workforce
2 Financial viability of the supplier
3 Organisational preparedness
4 Social distancing requirement
5 Ports and airports closure, airlines at skeleton operation levels
6 Risk of spreading the virus via physical products
7 Demand shocks
The longer you wait to deploy supplier management the greater the risk impact

---
You may think your organisation is good at managing suppliers but for the last 12 years our annual global supplier management research has shown that only 17% of organisations would be considered 'leaders' in supplier management, 60% 'followers' and 23% 'fast followers'. Find out how good your supplier management processes are.
Supplier management technology
Accelerate risk management with SupplierBase
State of Flux' SupplierBase platform is designed to facilitate the onboarding and management of suppliers, to maximise value and reduce risk. Around 1 in 3 respondents say their supplier management technology is in adequate. The platform integrates with third party risk information providers to monitor supply chain, regulatory and cyber risks, and will increase your ability to:
Accelerate

your supplier segmentation by risk exposure

Agree

treatment strategies for each risk segment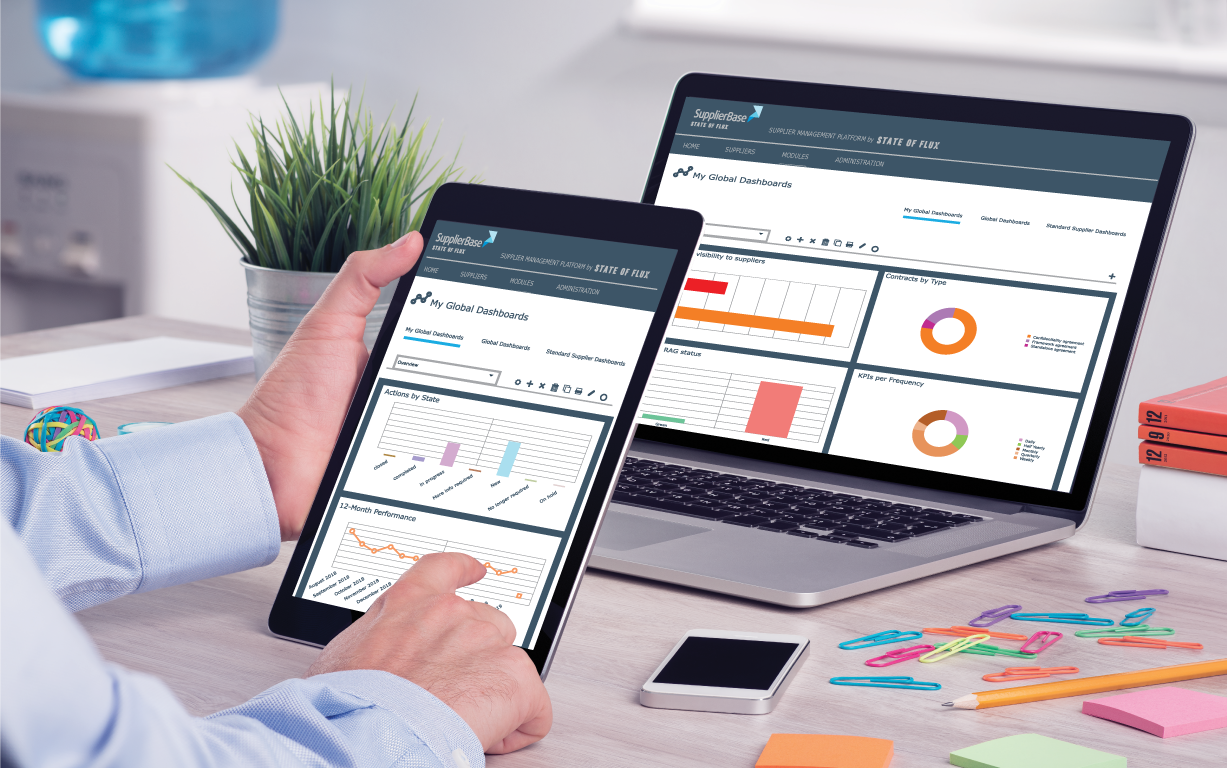 Online supplier management training
Manage risks in times of crisis
Our highly modular training programme can be quickly tailored to deliver in-house programmes to help procurement teams understand contract management, risk management and supplier joint account planning as part of the procurement life cycle. Every topic, activity, and exercise has a clear line of sight into the day-to-day life of a procurement professional. To maximise the effectiveness of people redeployed to spend more time with strategic suppliers, State of Flux has developed a training curriculum for all aspects of supplier management. When the delivery of this curriculum in a single physical location was disrupted by Covid-19 we rapidly switched to a virtual classroom.